Nothing Else Compares
Marine

Suspension

Technology
Nauti-Craft Marine Suspension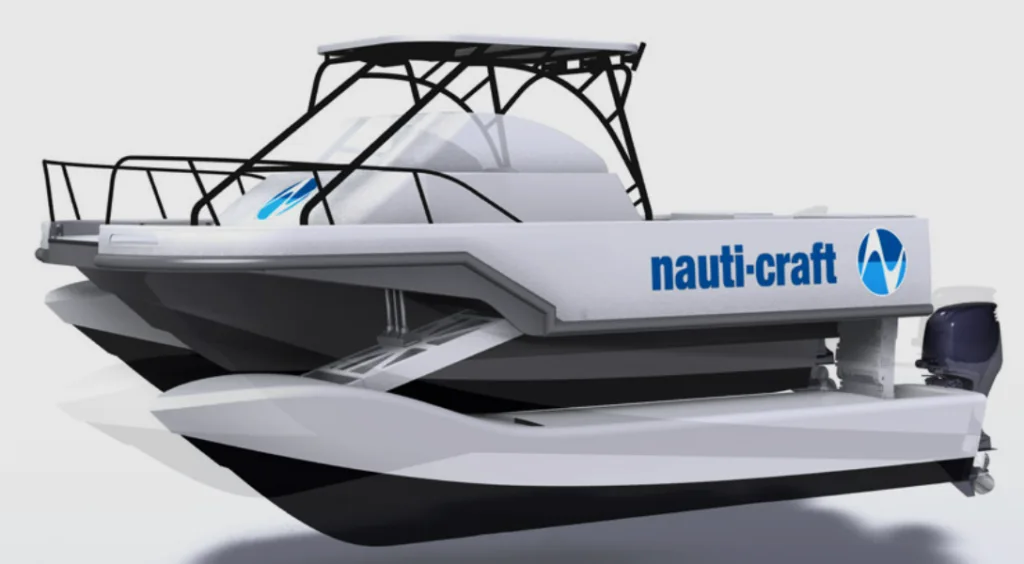 The Nauti-Craft technology is a hydraulic suspension system for multihulled vessels, designed by Nauti-Craft Dunsborough, in Western Australia.
Our team drew inspiration from the suspension systems of cars and off-road vehicles.
The marine suspension system separates the boat's hulls from the superstructure.
This allows the hulls to react rapidly to wave inputs and conform to the ocean surface without transmitting high forces and accelerations of the hulls to the deck and superstructure.

Why Suspension Boats?
It is all about vessel safety, economics and the environment. 
People who must to go to sea regularly know that vessel slamming causes injuries, fatigue and sickness.
A rough day can be torture and the only way of improving things is to slow down, which makes the ride better but much longer.
Marine suspension enables you to maintain your speed while reducing the size of impacts by up to 80%. Not only does it enable you to maintain productivity safely, but it can also be fun.
From an economics and environmental perspective, a suspension vessel can be used to replace a larger vessel for high speed transit, personnel transfer and loitering stability.
Our studies have shown that in a wind farm environment, we can supply an 18m 35t vessel to do the same job as a 26m 80t vessel at half the operating and capital cost and less than half the fuel consumption.

Nauti-Craft Applications
Nauti-Craft is the worlds only commercial "marine suspension technology" provider. Our vessels are unparalled when it comes to comfort, control and stability, both when stationary and at high speed.
Suspension technology is changing boating innovation across multiple industries, including commercial, security and defence, leisure and recreation. Please follow the links to see some examples.
If you have an application in mind, feel free to contact us to discuss how we can work together.

Nauti-Craft Services
The Nauti-Craft business model is based on a technology licensing approach coupled with a strong focus on engineering collaboration to bring your suspended vessel to market.
This engineering collaboration ranges from tailored engineering support through to a full technology transfer approach where we provide access to our suite of intellectual property and provide design training and support.